Recently on WIDB…
Congratulations to everyone graduating today, especially our own Danielle D'Arceneaux, Annie Potts, and Sharita [more]
Congratulations to everyone hired and good luck next semester! Executive Directors Mike Maxwell - Chief Engineer Chris Crow [more]
Kate Orze was our grand prize golden egg winner!! Congratulations to all of our prize [more]
WIDB is doing a Spring Egg Hunt NEXT [more]
WIDB is now accepting applications for 2013-2014 Staff Head positions! The positions include: Atl-Rock Director, [more]
by: SEM I'm going to do a bit of a throwback this week for my review. [more]
Our YouTube Page hit 500 views!! Congrats to our Promotions Director Chris Crow who has [more]
by: SEM
I'm going to do a bit of a throwback this week for my review. Last semester we received the self-titled album from Grandfather Child. I am a huge fan of this album and could literally listen to it on repeat for hours. With this album you receive about 40 minutes of playtime where each track is its own creature, which yet, as a collective, are still able to flow together seamlessly. Unlike a lot of records that I have been listening to recently, the Grandfather Child album has stood up because of their content. All of the… Continue reading →
by SEM
!Ay Caramba! Sorry for my lateness, but the good news is that the new Yellow Red Sparks was recently released on the 29th of January. The album, also titled Yellow Red Sparks, was my favorite release of the week, and has since been my go-to album. The songs on the album seem so personal, due to lack of "fluff". There is no need for it here, because the songs stand up for themselves. Each track catches my attention, and I can't help but get caught up in what I'm listening to.  Their shows are also… Continue reading →
by SEM
Hey there, hi there, ho there! With the New Year and new semester I'm going to try to keep up with reviews. Hopefully I'll be able to post something weekly, so brace yourself! Before I start this first review I feel like I need to preface it by saying that I've been a Tyler Bryant and the Shakedown fan since I first heard of them, so I may be a bit biased. That being said, I loved their new album "Wild Child". It keeps up with the old school blues-rock that they had on their previous album… Continue reading →
Gary Clark Jr. wants to help you get what you didn't receive from family this holiday season: A brand new Crosley Three-Speed Portable turntable & his new album "Blak n Blu" on vinyl. Sure would beat those tube socks!
Sign up here before February 1st!
by SEM
The Growl's new EP Cleaver Lever stormed in and, to my disappointment, out with the blink of an eye (no reference to the album art intended). The band, a six piece group hailing from Australia, started out as a just-for-fun recording project between the band's front-man and bassist, and have evolved into a band that I would sincerely suggest everyone take a good look at. Cleaver Lever is a 5-track EP that leaves its listener wanting more. The first track, "With the Sharp End of a Trowel", begins with an ominous sound, which creeps into a bluesy rhythm… Continue reading →
by EMH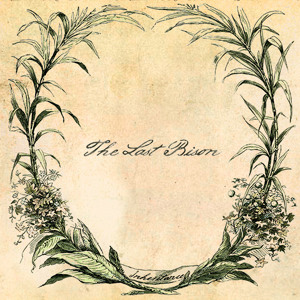 Inheritance is the new 4 track EP from indie-folk band The Last Bison. With a running time just shy of 15 minutes Inheritance serves as a glimpse into the world of The Last Bison while effectively bridging the gap between their past and future. Two of the songs, "Switzerland" and "Dark Am I", are new recordings of songs from their Quill LP. The other two songs are brand new tracks, and fit in really well with the older compositions. Although the production seems rather anemic at times and takes getting used to, the songs themselves hold together extremely… Continue reading →
Hey Guys and Gals!
Once again WIDB is here to share with you all the newest music!! Shiny Toy Guns are giving all of WIDB's fans a free advance download of their new single "Fading Listening"! To receive your free download all you have to do is wander over to our facebook page and like us! You can find your free download there, right under photos, through the Radio Fire App.
Like us. Get it. Like it.
Hey Carbondale-ians! If you're looking for something to do to kick your 3 day weekend off right, I have great news! This friday Pujol (an artist frequently played here on WIDB) will be playing at Hangar 9! Pujol recently released The United States of Being, which WIDB has been LOVING! The track "Black Rabbit" is from The United States of Being and is only one of many cool songs that can be expected to be heard at a live show. Our friends over at the Daily Egyptian recently ran a great interview they conducted with… Continue reading →
Hey there guys and gals! Hopefully the summer sun and WIDB are keeping you in a chipper mood! I am here to tell you that in addition to all of your regularly programmed fun, we are here to bring you a free download from the Revolution's stream! Thanks to Autumn + Colour Records, WIDB brings you "Nature's Hymn", a single from The Sleepy Turtles' recently released album "Summer, Hither". I could go on here about how great the song and album are, but your opinion is better than mine, so click away!!
Click Here for your FREE download!
1 CURSIVE                    I Am Gemini
2 SLEIGH BELLS      Reign Of Terror
3 MARS VOLTA           Noctourniquet
4 ANDREW BIRD     Break It Yourself
5 YELLOW OSTRICH     Strange Land
6 SHINS                     Port Of Morrow
7 FATHER JOHN MISTY      Fear Fun
8 MIIKE SNOW            Happy To You
9 TANLINES             Mixed Emotions
10 DR. DOG      … Continue reading →